The Vacation Of A Lifetime At
Universal Studios Orlando
That's exactly what we experience whenever we visit Universal Studios Orlando. The vacation of a lifetime. And I'm certain the same will be true for you when you visit this amazing resort.
Some know Universal's theme park in Florida by different names: Universal Studios Orlando, Universal Studios Florida, Universal Florida or Universal Escape (as it was known a short while ago). Officially, it is Universal Orlando. But my wife (Sophia, aka "The Mama"), children (Jessica and Joshua, aka Jess and Josh), and even me (Gary, aka "The Papa"), the world's hardest to please, have come to know it as "the funnest, coolest place on earth".
To say that Universal Studios Orlando is by far the most unique resort we have ever been to would be an understatement. And yes, before you ask, we'd even rank it better than that other place that Orlando is famous for. Don't get me wrong. Disney World is fantastic. We've visited several times and it is indeed "magical". But Universal Orlando is, well, different – in a very good, very mind-blowing way.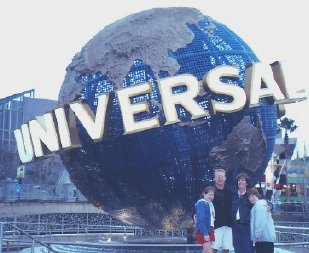 From the amazing thrill rides, breathtaking shows and family fun of Islands of Adventure. To Universal Studios, where you'll learn to expect the unexpected and go behind the scenes and experience the thrill of riding your favorite movies. And, what we liked best of all is that these two incredible parks are literally side by side. They are just a few minutes walk from each other. It's the best of both in one great location!
But the fun didn't stop there. When we had our fill of the parks we easily sauntered over to Universal's entertainment district, CityWalk. Here we enjoyed great entertainment, ate at some of the most unique restaurants we've ever experienced, and yes, even had time for our favorite pastime, shopping. All of this is conveniently located adjacent to the theme parks.
Sounds like one great vacation doesn't it?
At the Front Gate of Universal Studios!
But, you may ask, how do I get there? Where do we stay? Where's the best place to get tickets? What park should we visit first? Hold on. Slow down. Good golly, you're starting to sound like my kids with all these questions.
Be patient my Padawan learner. That's why we're here. To help you, based on our amazing experiences at Universal Studios Orlando, get answers to these and all of your questions. Think of us as your guide. Together we'll look at the many options available during your stay so that you can plan the perfect escape to Universal Orlando.
So come along for the ride to Universal Studios Orlando.
You're just a few clicks away from the vacation of a lifetime.