The Wizarding World of Harry Potter
Be Part of the Magic
---
First, let me clear something up. A lot of people think that The Wizarding World of Harry Potter is its' own amusement park. However, it's not. It's located in Islands of Adventure at Universal Orlando. Think of it as one of the six "islands" at Islands of Adventure. Admission to The Wizarding World of Harry Potter is included as part of your admission to Islands of Adventure.
Now that we have that cleared up, let me say that the Wizarding World is absolutely fantastic! The attention to detail from the cobblestone streets, to the snow capped roofs of the village of Hogsmeade, to the Hogwarts Express blowing steam and, of course, to Hogwarts Castle itself, is utterly amazing.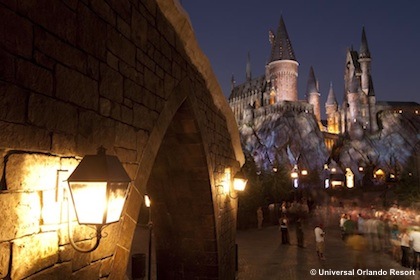 If you've read the Harry Potter books
or seen the Harry Potter movies
then you will not be disappointed in the Wizarding World of Harry Potter. And if you haven't read the books or seen the movies, don't despair, as I'm sure you'll enjoy the Wizarding World nonetheless.
My entire family is a fan of the Harry Potter series and Sophia is an absolute fanatic. She is somewhat of an authority on the subject and I have learned that, when it comes to Harry Potter, I don't argue with her as it's one argument that I'm sure to lose.
As you enter Hogsmeade under the stone archway with a sign that says "Please Respect the Spell Limits" you'll feel like your part of the Harry Potter universe. As you walk down the cobblestone streets you'll be able to visit and select a wand at Olivander's, shop for practical jokes at Zonko's, sweets at Honeydukes and school supplies at Dervish and Banges.
You can ride a Chinese Fireball or a Hungarian Horntail while taking part in the Dragon Challenge. Zoom through the air on the back of Buckbeak in Flight of the Hippogriff and take part with Harry, Hermione and Ron on the ride of your life in Harry Potter and the Forbidden Journey. This ride is ABSOLUTELY FANTASTIC and worth every minute of waiting.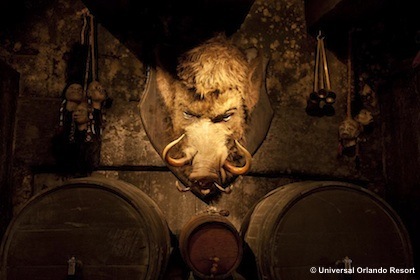 And, yes, there is food in the Wizarding World. Enjoy somewhat "authentic" British cuisine at The Three Broomsticks where Harry, Ron, Hermione and their friends like to gather when visiting Hogsmeade. You can also enjoy a Butterbeer or another fine brew at the Hog's Head Pub.
So let's take a closer look at the Wizarding World of Harry Potter by clicking the links below for more detailed experiences of this magical "island".


---
Return from The Wizarding World of Harry Potter to the Home Page