The Wizarding World of Harry Potter Shows
Enchanting and Delightful
---
I guess the Wizarding World of Harry Potter shows aren't so much shows as they are street performances.
As we entered the Wizarding World from the exit that connects the Lost Continent to the Wizarding World of Harry Potter we saw the Hogwarts Express and were greeted by its conductor. Although it's not really a show it is a really great photo opp. The conductor was really knowledgable as we peppered him with questions about the Wizarding World and the Harry Potter universe. Be sure to ask him a few questions of your own to see if you can stump him. Good luck!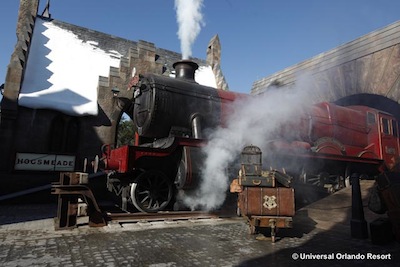 As we continued our exploration of the streets of Hogsmeade Village we came across the Frog Choir. Imagine that ... singing frogs! The frogs were accompanied by Hogwarts students and they sang songs from the Harry Potter movies
including one of Sophia's favorites, "Something Wicked This Way Comes". Ah yes, Sirius Black. He didn't turn out to be so wicked after all did he?
While it's more a place of refuge, The Owlery gave us a chance to take a load off and rest for a while. While you are sitting and relaxing be sure to look up and take note of the owls roosting in the rafters above. Oh yea, and watch out for the owl droppings. Although they are thought to bring good luck in some countries.
---
Jessica's Tips
If you needed some money and you were Harry Potter where would you go? To Gringotts of course! There you will find an ATM machine to get some cash to go shopping (my favorite hobby).
And, when you use the rest room and you hear someone weeping. Don't be alarmed. It's only Moaning Myrtle that you hear.
---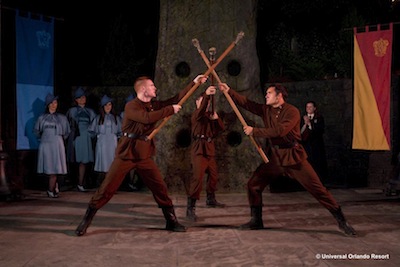 If you're familiar with "Harry Potter and the Goblet of Fire" then you are familiar with the challenge of the Triwizard Tournament. The Triwizard Tournament is a magical contest of wit and skill between the student champion of Hogwarts, Durmstrang Institute and the Beauxbatons Academy of Magic. So in the spirit of the Triwizard Tournament Universal Orlando has brought to life the Triwizard Spirit Rally as another Wizarding World of Harry Potter show. In this show students from Beauxbatons and Durmstrang show off their respective talents in ribbon dancing, martial arts and acrobatics. We all thought the show was highly entertaining and Jessica, our resident dancer, thought it was nicely choreographed.
After the shows you may be hungry or perhaps you'd like to do some shopping. Click the links below to further explore the Wizarding World of Harry Potter.
---
Return from The Wizarding World of Harry Potter Shows to the Home Page