Top Picks for Cheap Orlando
Hotels and Accommodations
Staying in Orlando doesn't have to be an expensive proposition. Quality cheap Orlando hotels are not only plentiful, but they get you the best bang for your buck during your Universal Studios Orlando vacation.
Now, what we've found is that when you stay at a cheap Orlando hotel you may have to sacrifice some amenities ... but you won't have to skimp. Our experience is that we're usually on the go during the better part of the day ... and night ... while having a great time at Universal Studios, Islands of Adventure and CityWalk. So, since we spend most of our time at the parks, we've discovered that staying at a cheap Orlando hotel really isn't much of a sacrifice at all.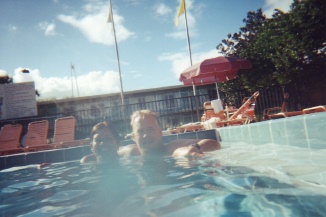 Sophia and I taking a dip at the Seralago
We're usually just at the hotel to rest for the night and to get started for the next day. But, I must admit, while on the occasional down time, having a pool to lay beside with my wife Sophia while basking in the Florida sunshine and watching Jess and Josh play is a definite plus!
During our stays in Orlando we've come across some very nice, cheap Orlando hotels. We've also come across many more recommended by fellow internet surfers like yourself.
Here are some of the nicest, cheap Orlando hotels that we've found ...
#1 - Comfort Inn International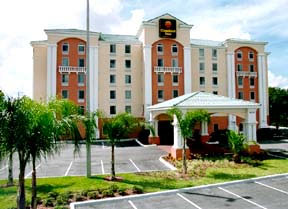 The Comfort Inn International is located in the heart of International Drive, only a mile from Universal Studios Orlando. Refresh yourself and take a dip in the outdoor pool after a long day at Universal. The Comfort Inn offers a complimentary deluxe breakfast with hot waffles and a a free daily national newspaper.

The rooms are equipped with amenities like a refrigerator, safe, ironing and ironing board as well as a coffee maker for those morning pick-me-ups. Parking is also free and there are guest laundry facilities on site. PLUS - Free Transportation to Universal Studios. Cheap Orlando hotel? I don't think so. I mean, what more can you ask for?
Find the best deal, compare prices and read what other travelers have to say about the Comfort Inn International
#2 - Seralago Hotel and Suites
The Seralago has been one of our favorite cheap Orlando hotels. But I will admit ... it's a little off the beaten track. Located on US-192 just a mile from I-4, it is within 3 miles of Disney's Main Gate. But it's also an easy 15 minute drive to Universal Studios Orlando.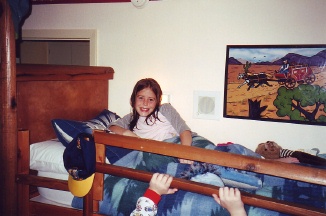 Jess in the Seralago Kid Suite
We like it because the Seralago is particularly popular with families and is close to a wide variety of restaurants and shops. There's also never a shortage of things to do at the Seralago because they have two large outdoor splash pools (one with a poolside bar), a children's pool and playground, two spa tubs, a game room, as well as basketball, shuffleboard, a movie theatre and sand-volleyball courts. The Seralago Hotel also offers free scheduled shuttle service to Disney Parks. Guest Services are more than happy to arrange your transportation to Universal Orlando and elsewhere.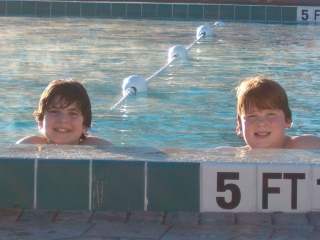 Josh and his friend Ryan cooling off at the Seralago
Because of it's location, there are plenty of dining options at the Seralago. We've found that the on-site Vineyard Café and food court are OK and, as a plus, children under 10 get a complimentary breakfast. But there are also plenty of great restaurants within an easy walking distance of the hotel including one of our favorites ... Chili's. The sports bar at the Seralago also offers some fine "after hours" refreshments if the mood suits you.
And if Universal Orlando isn't enough for you, Old Town amusement park and shops are right next door to the Seralago Hotel.
Read what other travelers have to say about the Seralago Hotel and Suites.

At around $60 - $70/night, it's not only a cheap Orlando hotel, it's great value for the money. I highly recommend that you get an inside room with a view of the pool. We've found these rooms to be a little quieter, more convenient and for the little extra they charge, it's well worth it. And if you have kids, definitely give their Kid Suites a try. Your kids will love you for it!
#3 - Best Western PLUS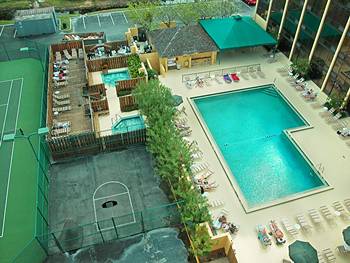 The Best Western PLUS is located directly across from Orlando's Wet 'n Wild water park and one mile from Universal Studios and Islands of Adventure. Like the Seralago, the Best Western tends to draw vacationing families. Complimentary brochures about area attractions are available in the lobby.

Just off the lobby are a deli, game room, and restaurant. In addition to the attractions nearby, the hotel offers an outdoor splash pool, two spa tubs, a tennis court, and a basketball half-court. An arcade is right off the lobby. Breakfast and dinner are served at Sharky & Jacks' Bar & Grille and the buffet breakfast is complimentary for children 9 and under. The Best Western is also a "pet friendly"hotel.
So take a few minutes to compare prices and read what others have to say about the Clarion Hotel Universal.
#4 - Rosen Inn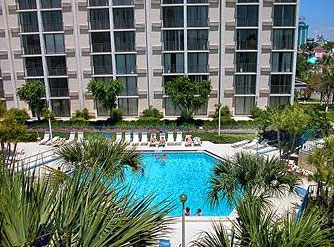 The Rosen Inn is located on International Drive and is just a and a mile and a half from Universal Studios. SeaWorld is four miles away and the many Disney theme parks are all within 10 miles. The Rosen Inn is "pet friendly" and offers free scheduled shuttle service to all the nearby theme parks including Universal, SeaWorld, and Wet 'N Wild.

If you haven't already purchased your Universal Studios Orlando tickets , the Guest Services desk can help you with your tickets as well as with restaurant reservations, car rentals, and more. This Rosen Inn has two buildings, one with nine stories and the other with four. They are set around an outdoor pool in a sunny courtyard. There is a video-game arcade on site as well as a gift shop, laundry facilities and a small grocery store and deli.
Find the best deal, compare prices and read what other travelers have to say about Rodeway Inn International
---
These are but a few of the cheap Orlando hotels available. No doubt about it, your choices are many but I have no reservations about recommending to you any of these hotels. We like to think of them as "inexpensive" or "thrifty" and not "cheap".
They all offer a wide variety of amenities and conveniences that you would expect to find at a more expensive hotel which leaves you more money in your wallet for other fun stuff. That's always a good thing!


---
Didn't find what you were looking for?

Click here for more cheap Orlando hotels


---
Click here to go to Universal Studios On-Site Hotels
Click here to go to Orlando House and Condo Rentals