Islands of Adventure
A Theme Park Like No Other
We love Islands of Adventure at Universal Orlando!
It is by far the most unique theme park that we have ever been too. This park is not "just more" of it's sister park Universal Studios. It offers some of the most innovative rides and attractions ever created. Unlike Universal Studios which gets it's inspiration form the movies, Islands of Adventure gets it's inspiration from several very unique sources ... that is with the exception of Jurassic Park and the now under construction Wizarding World of Harry Potter opening on June 18th, 2010.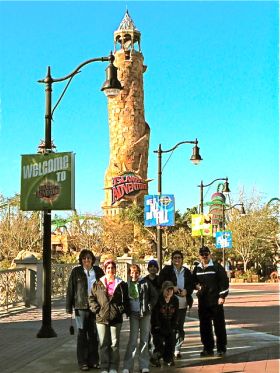 Off We Go!
Click here for a brief description
of each of the Islands


Islands of Adventure is just a few minutes stroll from Universal Studios and City Walk. If you are staying at one of the on-site hotels it's also just a short walk or ferry ride from your hotel to the park.
As you cross the bridge leading to the park be sure to take a family photo in front of the lighthouse which leads you into the Port of Entry. The Port of Entry is your gateway to Islands of Adventure. Here you'll find the usual fair of: restrooms, lockers, first aid and guest services. You'll also find Islands of Adventure souvenirs at the Islands of Adventure Trading Company and Port Provisions. The photo shop is located inside Island Market and Export and you can grab yourself a late breakfast and a coffee at the Confisco Grill, Croissant Moon Bakery or Cinnabon.
---
GARY'S TIP
You can get VERY wet on the islands and, in particular, Toon Lagoon. Dudley Do-Right's Ripsaw Falls and Popeye and Bluto's Bilge-Rat Barges are known to leave you drenched. You may want to pack some dry clothes and a towel or two and leave it in a locker at the Port of Entry so that you can get yourself dry without having to lug that stuff around the park.
---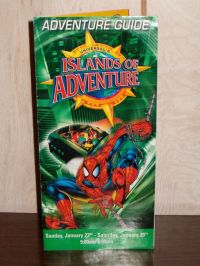 Be sure to get yourself an Islands of Adventure Guide while in the Port of Entry. It gives you a full layout of the park as well as various show times, times for meet and greet various characters and Super Heroes as well as ride heights and restrictions. We always grab a few guides so that we can keep some as a souvenir.
---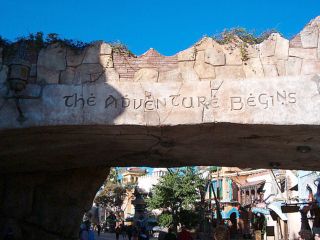 The Port of Entry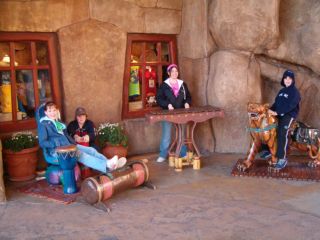 As you leave the end of Port of Entry you'll find a huge man-made lake called The Great Inland Sea. All of the "islands" surround the Great Inland Sea in a giant circle. So here you have two choices: do we go left,or do we go right?
---
GARY'S TIP
For older kids and young adults go left. This will take you to Marvel Super Hero Island and some fantastic thrill rides like the Incredible Hulk Coaster and my personal favorite, The Amazing Adventures of Spider-Man. For the younger crowd, go right and you will enter into Seuss Landing where the rides like The Cat In The Hat and One Fish, Two Fish, Red Fish, Blue Fish are a little tamer.
---
The park is divided into 6 distinct "islands" that are all uniquely themed. If you haven't seen the Jurassic Park movies or are not familiar with Dr. Seuss then I highly recommend that you check them out before you visit. They are bound to make your visit to Islands of Adventure that much more enjoyable.
After the Port of Entry the five remaining themed islands are:
Marvel Super Hero Island
Toon Lagoon
Jurassic Park
The Lost Continent
Seuss Landing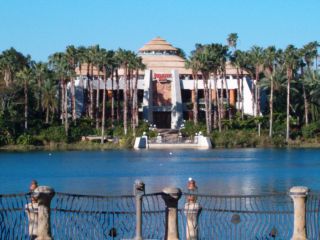 Jurassic Park Discovery Center
over The Great Inland Sea


After deciding to go left or right (we always go left!) as you leave the Port of Entry, simply go to the various rides and attractions as you come across them. Rides are continuous, so pick them up as you go along. Shows however operate according to scheduled times. Consult your Guide for the show times of the shows that you would like to see and plan accordingly. Try to avoid "island jumping". There is a lot to see and you'll waste a lot of time (and energy) criss-crossing back and forth.
---
Click Here to go to Each of the Islands