Islands of Adventure
Innovative Rides and Attractions
One word best describes the various rides and attractions at Islands of Adventure at Universal Orlando.
FANTASTIC!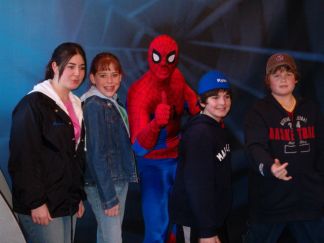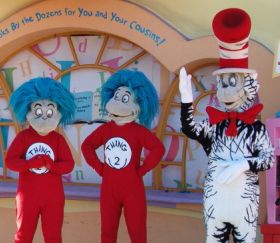 We have visited many theme parks over the years but, quite frankly, none of them come close to this one. Whether you are young, a teen, a little older or just young at heart, you will find something that gets your juices flowing at Islands of Adventure.
The rides and attractions at here are just so unique that some of them go beyond any description that I can give you. You really need to experience them first hand. If you want fast, it's here. If you want 3-D, it's here. If you want to get wet, it's here. If you want to travel to another time, it's here. And if you want whimsical, well, it's here too. There really is something for everyone at Islands of Adventure at Universal Orlando.


Here is a quick preview of each island at Islands of Adventure as well as some of Sophia's personal top picks.
---
MARVEL SUPER HERO ISLAND

The Amazing Adventures of Spiderman
Sophia's Top Pick


Here you'll don your 3-D Spider-Vision glasses and careen through the streets for an eye-popping, pulse-pounding, high tech 3-D thrill ride like no other. Follow Spiderman in your "Spidey" car as you fly high above the city. Feel the heat as Spiderman pursues and takes on all his infamous villains. Be sure to say "Hi" to Spiderman when he lands on your car. And the ending, well, it's to die for. Definitely one of the best 3-D, pulse-pounding rides you will ever experience.

I agree with Sophia. In fact I think this is the best ride at Islands of Adventure

Doctor Doom's Fearfall


Strap yourself in as Dr. Doom's diabolical new device extracts every drop of fear while rocketing you 150 feet into the air and then drops you faster than gravity itself!

Storm Force Accelatron


Help the X-Men's superhero Storm summon the forces of nature in a whirling, twirling, spinning power generator in her battle against the evil Magneto. This is one spinny ride. Not for the faint of heart or for those that get dizzy, or in my case, nauseous easily.

Incredible Hulk Coaster
Sophia's Top Pick


From 0 to 40 mph in 2 seconds flat as Dr. Bruce Banner's gamma-ray accelerator launches you. You'll want to hold on tight because this is high speed at it's best! Did I mention the loops? You'll come off this coaster and get back in line wanting for more!
Also at various times throughout the day you can meet Spiderman and many other Marvel Super Heroes. Check your Islands Of Adventure Guide for times and locations. This is a great photo opportunity!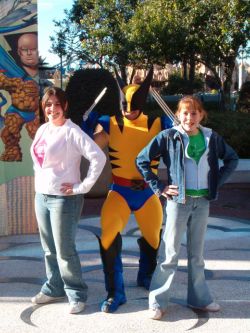 Wolverine with Jessica & Jessica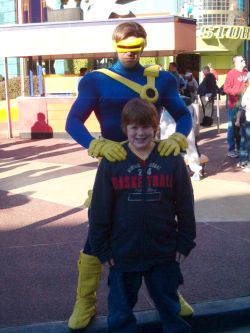 Cyclops and Josh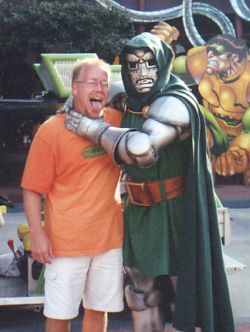 Help! Dr. Doom's got me!
---
SEUSS LANDING

The Cat In The Hat
Gary's Top Pick


I loved the Cat in the Hat when I was younger. Here you can take a whimsical journey as you ride your couch through the pages of Dr. Seuss' The Cat in the Hat. Not only will you meet the world's most mischievous cat, you'll also meet Thing 1 and Thing 2. Brings back memories.

The High In The Sky Seuss Trolley Train Ride


For many years this ride remained unfinished. But Universal put the finishing touches on this high-in-the-sky ride that will give you a whole new perspective of Seuss Landing.

One Fish, Two Fish, Red Fish, Blue Fish


Steer your fish along through an obstacle course of water fountains that squirt in time to a musical rhyme.

Caro-Seuss-el


Hop aboard this carousel and go merrily round and round while riding a selection of colorful characters from the world of Dr. Seuss.
Meet the Cat in the Hat and other Dr. Seuss characters, including The Grinch, as you stroll through Seuss Landing.
---
JURASSIC PARK

Jurassic Park River Adventure
Sophia's Top Pick


One of the few rides at Islands of Adventure were you can just sit back, relax and enjoy the boat ride as you check out dinosaurs from another time. Oh ya, try to avoid the raptors. Oh, and did I mention the T-Rex too! You might want to duck before he bites you. The 85 foot plunge over a waterfall at the end is an experience you soon won't forget either. If you love the Jurassic Park movies like I do, you'll love this ride!

Jurassic Park Discovery Center


An interactive playground where you can scan fossilized skeletons, examine dinosaur eggs, watch velociraptors hatching and play mind boggling games in this hands-on educational interactive area.

Pteranodon Flyers


Climb aboard a Pteranodon and soar through the air high above Camp Jurassic. Fun ride but the line moves very slow.

Camp Jurassic


Explore amber mines, look for dinosaur bones, climb dinosaur nets and more in this prehistoric playground. Great time to get off your feet and relax while watching the kids play.
---
THE LOST CONTINENT

Dueling Dragons
Sophia's Top Pick


Two coasters, Fire and Ice, dueling each other side by side. Fire ravages the Town of Merlinwood while Ice stalks Merlin's castle. Of course, you'd never no it because these coasters are so bloody fast! Who has time to stalk and ravage while you are soaring through the air and entering hair raising loops and twists that seem to reach for the sky! Sophia says these Islands of Adventure coasters are "awesome" and "smooth". She loves coasters and these are two of her favorites.

The Eighth Voyage of Sinbad Stunt Show


Finally some time to sit and relax while you experience death-defying stunts and breathtaking feats as Sinbad attempts to rescue the beautiful princess Amoura from the evil witch Miseria. Cool show!




Poseidon's Fury
Sophia's Top Pick


Poseidon's Fury is really different and really, well, neat. The best way to describe it is a really cool, walk through, interactive show. Once inside you are trapped beneath the sea in Poseidon's ancient temple. Fireballs and lasers erupt around you as the battle under the sea occurs. You can really feel the heat of the fire and the water tunnel that you must pass through is pretty cool too. You don't even get wet!

The Flying Unicorn


A roller coaster for the young and the young at heart. Soar through an enchanted forest as this mythical creature takes you on an exhilarating, yet tame, flight of fancy. From the top of the Flying Unicorn you can see the Wizarding World of Harry Potter currently under construction at Islands of Adventure.
---
TOON LAGOON

Dudley Do-Right's Ripsaw Falls
Sophia's Top Pick


One of the best log flume rides in North America. Bring extra clothes because you will get soaked! Dudley Do-Right takes you on a wild and extremely wet flume ride with a steep, 75 foot water drop that leaves you breathless

What a soaking!

Popeye and Bluto's Bilge-Rat Barges


This raft ride is super soaking good fun. Climb aboard the rubber rafts as they twirl and dip along a twisting, rapids strewn water course. And if the rapids or the water falls don't get you wet then beware of the spectators above shooting you with water cannons.

Me Ship, The Olive


Your kids will have a whale of a good time while exploring Popeye's ship with three levels of interactive fun
---
Back to Islands of Adventure Main Page