"Rock On" at Universal's
Hard Rock Hotel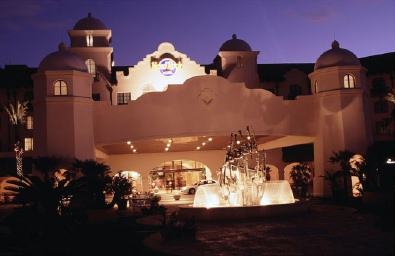 The Hard Rock Hotel is designed as a California mission style estate, the home of a sophisticated rocker, complete with an eclectic collection of memorabilia. From video screens showcasing the biggest musical names of our time, to the resort-wide stereo system, the 650-room resort is designed with the spirit of rock 'n' roll in mind, so that every guest feels like a rock star.
The heart of rock n' roll beats throughout the entire 650-room Hard Rock. From the moment guests enter the Hard Rock Hotel, they are surrounded by the spirit of music. Video screens and speakers play the hottest videos and music, and throughout the hotel, an eclectic assortment of rock memorabilia that includes Elvis's rhinestone jumpsuit, footwear from Elton John's closet, and some of Madonna's famous ensembles let guests get up close and personal to their favorite rock stars.
Dining at the Hard Rock Hotel is a far cry from the craft services table, with restaurants including the Palm Restaurant, a steakhouse straight from New York, known for its prime beef cuts and lobster, and The Kitchen, where you can dine on the favorite dishes of rock icons. To top off the day, the chic, urban setting of Velvet Bar in the main lobby can smooth out the evening.
There are a variety of rooms and suites to choose from, including the King, Club and Graceland Suites, the Hospitality Parlor and Kid's Suites. Rooms feature three black and white pieces of art from the Hard Rock Café private archives and a selection of rock star wake-up calls from celebrities like N'Sync and Dee Snider. The Hard Rock hotel is designed as if it was formerl the estate of a rock star who might have acquired a collection of rock memorabilia on his decades of "road trips."
The rock 'n roll excitement of this "Hotel California" mission style property continues at the trendy outdoor pool area. Surrounded by lush palm trees, visitors can sun bathe on the white sand beach, sip cocktails around the sparkling blue pool, and slide down the 260-foot water slide. All while listening to the hottest music playing on outdoor speakers. And to make sure swimmers don't miss their favorite songs, there are 12 underwater speakers.


Book Your Stay at the Hard Rock Now !


HARD ROCK HOTEL FEATURES
GUEST AMENITIES/SERVICES
All rooms include the following:
Integrated entertainment center with CD player
Three black and white pieces of art from the Hard Rock Café private archives
On-command in-room movies, video check-out and remote control TV with cable channels
Smart Room Technology for automated heating and air conditioning
Integrated entertainment center including remote control color TV with cable channels, in-house video channels, on-demand movies and CD player/radio with Hard Rock CD's and stereo speakers
In-room safe
Two dual-line telephones with voicemail system
Selection of rock star wake up calls
Refreshment pantry
Coffee maker & coffee
Iron & ironing board
Hair dryer & make-up mirror
Separate bath and vanity area with two separate sinks (one inside, one outside)
Turn-Down Service
Loews Loves Pets
Home Sweet Loews – Loews offers extra items that you may have forgotten to bring with you
ROOMS
Garden View Rooms - A spacious room accented with Hard Rock theme.
Pool View Rooms - A room overlooking the Hard Rock Hotel's pool area.
Deluxe Room - A larger room with additional seating area.
Hard Rock Club - The room is located on the Club Level Floor featuring large screen television, fax machine, cordless phones, complimentary continental breakfast and evening hors d'oeuvres, honor bar and 18-hour concierge service.
SUITES
Kid's Suites – Hard Rock Hotel has 14 children's suites. These include an adjoining room for children that can only be accessed through the main room. The main room features a king bed and standard room; the adjoining children's room mirrors the decor of the adult room and has two single beds and a small table and chair set.
The following suites feature a parlor area withsurround sound stereo system with CD player, service pantry, under counter refrigerator, large screen remote TV, fax machine and wet bar.
The King Suite – This suite features a parlor area with one king bed and adjoining pool view room with two queen beds.
Hospitality Parlor – The Hospitality Parlor includes a parlor area and adjoining Garden View room with one king bed.
Club Suite - Located on the Club Floor, these suites feature a parlor area with one king bed and adjoining Hard Rock Club Room with two queen beds. Club Floor amenities are available to guests.
Graceland Suite – The largest suite located on the Club Floor, The Graceland features a parlor area and adjoining Hard Rock Club Room with two queen beds. Club Floor amenities are available to guests.
EXCLUSIVE GUEST BENEFITS
At Universal Orlando everything is within walking distance, including Universal Studios, Islands of Adventure and CityWalk. Guests at Universal Orlando on-site resorts enjoy exclusive privileges throughout their stay, including:
Universal Express preferred access to theme park rides and attractions all day, every day
Courtesy water taxis and bus transportation between the resort, theme parks and entertainment complex
Priority seating at select Universal Orlando restaurants & shows
Complimentary package delivery of in-park purchases to guest rooms
Resort ID cards to charge merchandise, dining and entertainment throughout Universal Orlando
Length-of-stay tickets are available for purchase to enjoy unlimited admission to the two theme parks
LOBBY AND RECEPTION AREA
Three separate check-in desks for personal service
Safe deposit boxes
Concierge/guest services
ATM machines
Retail store featuring appealing proprietary Hard Rock Hotel line of merchandise
PARKING AND TRANSPORTATION
Valet and self parking
Guests will have access to the theme parks and CityWalk via shuttle bus, water taxi and a garden walk
RESTAURANTS AND LOUNGES
The Kitchen – The Kitchen serves up an eclectic array of cuisine, serving up some meals hand-picked by your favorite rock stars. From Sammy Haggar's seared sea scallops to Dee Snyder's braised short ribs, The Kitchen offers something for every appetite.
Palm Restaurant - Open for lunch and dinner, the famous New York steakhouse and bar comes to Orlando. The Palm's menu offers a variety of American fare and Italian specialties, but is most famous for its prime cuts of beef and jumbo lobster. The walls of each Palm restaurant are covered with caricatures of local notables and celebrities.
Hard Rock Beach Club - Casual and quick poolside service as well as a self-service counter with a full bar. The menu offers burgers, sandwiches, wraps, salads and other foods.
Velvet Bar - The hotel's gathering place located on the lobby level. Cocktails, wine, beer and hors d'oeuvres are available. Guests will be served at the bar or in the lobby area.
24-hour room service
RECREATIONAL ACTIVITIES
Beach Pool area featuring water slide, zero entry pool with a white sand beach, underwater audio system, three interactive pop jet fountains, two whirlpools, music-themed private cabanas, a game area with lawn checkers, beach volleyball and shuffleboard, and a children's pool creating a Southern California beach atmosphere.
Fitness Club with workout room, steam room and sauna.
Camp Lil' Rock, a supervised children's recreation facility.
---
Click here to go to Portofino Bay Hotel
Click here to go to Royal Pacific Resort
Click here to go to On-Site Hotels