Relax in a Tropical Paradise at Universal's Royal Pacific Hotel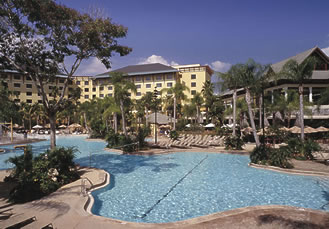 One of North America's most exotic hotels, the Royal Pacific Hotel at Universal Orlando immerses guests in the tropical enchantment of the South Pacific. The Royal Pacific Resort captivates guests with its unique design, exotic charm, and elaborate landscaping and lagoons, bringing to life the tales of the Pacific islands.
At the Royal Pacific Hotel, guests are transported to the isles of the South Pacific. When approaching the resort, guests pass through a towering bamboo forest and authentic Kul-Kul tower, a Balinese structure used to celebrate special occasions. Once visitors cross a bamboo bridge they enter the lobby, which surrounds an open-air Orchid Court – a space filled with hundreds of brilliantly colored orchids, exotically shaped palm trees, hand-carved stone statues and hand-painted panels, all from remote island villages.
The Royal Pacific Resort offers 1,000 luxury rooms and suites, with Club Floor rooms and Club Lounge and Executive, Hospitality, Governors and Presidential Suites. Guests can dine at several areas on the property, including: Emeril's Tchoup Chop, a fine-dining South Pacific culinary experience from celebrity Chef Emeril Lagasse, The Islands Dining Room, Jake's American Bar, Bula Bar & Grille and Orchid Court Lounge.
The Royal Pacific Hotel has a massive lagoon pool, complete with its own island. The pool area covers 12,000 square feet and the recreation area has a 4,000 square-foot interactive play area.


Book Your Stay at the Royal Pacific Now !


ROYAL PACIFIC HOTEL FEATURES
GUEST AMENITIES/SERVICES
All rooms at the Royal Pacific Hotel include the following:
Integrated entertainment center with CD player
On-command in-room movies, video check-out and remote control TV with cable channels
Smart Room Technology for automated heating and air conditioning
Integrated entertainment center including remote control color TV with cable channels, in-house video channels, on-demand movies and CD player
In-room safe
Two dual-line telephones with voicemail system
Refreshment pantry
Coffee maker & coffee
Iron & ironing board
Hair dryer & make-up mirror
Separate bath and vanity area with two separate sinks (one inside, one outside)
Turn-Down Service
Loews Loves Pets
Home Sweet Loews – Loews offers extra items that you may have forgotten to bring with you
ROOMS
Standard Room - Decorated in the Dutch colonial style, each room features either king or double queen beds.
Pool View Rooms - A room overlooking the resort pool area, with breathtaking views of the evening sunsets.
Royal Club - Guestroom located on the Club Level floor featuring a Club Lounge serving morning continental breakfast and afternoon beverages and snacks. A concierge will be available to guests for 12 hours each day. Guests staying on the Club Level will have key access to this floor.
SUITES
Executive Suite - The Executive Suite features a living area and private bedroom with king-sized bed. In addition to comfortable seating, the living area has a desk, sound system and television. Decor includes historic travel posters and prints, hand-carved wall panels and Indonesian decorative accessories.
Hospitality Suite - This suite feature generous parlor area complete with flexible seating area, desk, entertainment center and dining area with butler's pantry. Adjoins a basic guest room for convenience. Décor includes historic travel posters and prints, hand-carved wall panels and Indonesian decorative accessories.
Governor's Suite - The Governor's Suite features generous parlor area complete with seating area, desk, entertainment center and dining area with butler's pantry, which adjoins a basic guest room for convenience. The suite is decorated with historic maps and memorabilia. Adjoining room on Club Level.
Presidential Suite - Presidential suite features a living area, dining area with butler's pantry, powder room, study and master bedroom with luxurious private master bath with spa tub and separate shower. Entertainment systems are located throughout. The suite adjoins double queen guest room. Decorated with hand-carved decorative wood panels, authentic Indonesian artifacts and vintage travel memorabilia.
EXCLUSIVE GUEST BENEFITS
At Universal Orlando everything is within walking distance, including Universal Studios, Islands of Adventure and CityWalk. Guests at Universal Orlando on-site resorts enjoy exclusive privileges throughout their stay, including:
Universal Express preferred access to theme park rides and attractions all day, every day
Courtesy water taxis and bus transportation between the resort, theme parks and entertainment complex
Priority seating at select Universal Orlando restaurants & shows
Complimentary package delivery of in-park purchases to guest rooms
Resort ID cards to charge merchandise, dining and entertainment throughout Universal Orlando
Length-of-stay tickets are available for purchase to enjoy unlimited admission to the two theme parks
LOBBY AND RECEPTION AREA
The Lobby areas at the Royal Pacific Hotel surround central fountain of the Orchid Court. Lobby bar and lounge seating areas are richly appointed with unusual custom made furniture and woodcarvings from Indonesia. Art and artifacts from Indonesia bring richness of native-made art and craft together in a unique collection of cultural artifacts.
Retail store features an array of gifts including imported Indonesian furniture.
Concierge/guest services
PARKING AND TRANSPORTATION
Valet and self parking
Car rental agency on premises
RESTAURANTS AND LOUNGES
Islands Dining Room – An all-day, three-meal restaurant with buffet area. Serving casual Pacific cuisine along with a traditional menu, Islands offers a selection of steaks, sandwiches, seafood, and children's buffet. Nightly entertainment includes Universal Orlando characters, traditional Polynesian dancers, and musicians throughout the week. Indoor and outdoor seating is available.
Jake's American Bar - Decorated to celebrate the Romantic Era of Clipper ship travel, the bar and grille features lighter fare such as sandwiches and snacks, as well as a full bar.
Tchoup Chop - Chef Emeril Lagasse's Tchoup Chop (pronounced "chop-chop") offers diners a unique and exotic journey through the Pacific Seas. The menu at Tchoup Chop focuses on the islands of the Pacific with Asian and European flavors complemented by Chef Emeril's signature bold flavors.
Bula Bar & Grill - A casual and quick poolside eatery that serves food and beverages with a tropical flair.
Orchid Court Lounge - Royal Pacific Hotel's lobby lounge where guests can enjoy a continental breakfast each morning, relax and sip on tropical beverages, or pick up some light snacks in the evening.
RECREATIONAL ACTIVITIES
Lagoon Pool – Features a zero-entry with deck and sand beach, interactive water play area, children's wading pool, two whirlpools, and three cabanas.
Royal Garden – An outdoor area with putting green and entertainment/stage area for shows.
The Gymnasium – The Royal Pacific Hotel's fitness center, featuring state-of-the-art Cardio Fitness and circuit training equipment with a cardio theater, men's and women's locker rooms with separate steam and sauna rooms, and a co-ed whirlpool.
Mariner's Club – A supervised children's activity center with nightly programs.
---
Click here to go to Hard Rock Hotel
Click here to go to Portofino Bay Hotel
Click here to go to On-Site Hotels