A Taste of Italy at Universal's Portofino Bay Hotel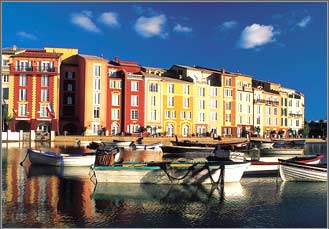 The allure of Mediterranean luxury is re-created at Universal Orlando with the Portofino Bay Hotel . Featuring 750 elegantly appointed rooms, the Portofino Bay Hotel is imbued with the ambiance and romantic harborage of the Italian seaside village of Portofino.
Guests are immersed in the elegant Italian ambiance as they enter the hotel, with dramatic trompe l'oeil paintings enhancing the ceiling. The enchantment continues throughout the property with Italian cypress and olive trees, cobblestone streets, sidewalk cafes, a harbor and Italian sports cars and Vespas parked in the harbor piazza. The hotel's grounds are also full of ornate fountains, a staple of Italian artistry.
The 750-room Portofino Bay Hotel was the first property at Universal Orlando Resort and has received recognition from Travel & Leisure and Conde Nast Traveler as one of the country's top 100 hotels and the highest-rated property in Central Florida. The luxurious guest rooms, including Governatore and Presidente Suites, as well as Portofino, Villa and Hospitality Parlors and 18 kid's suites, are patterned after the village's waterfront homes. Restaurants share space along the harbor-side piazza just as it is in the original village.
Visitors can savor the flavor and environment of Portofino with a myriad of on-site dining options like the internationally known Bice Ristorante, as well as Trattoria del Porto, Mama Della's Ristorante, Sal's Market Deli, Splendido Pizzeria and an authentic Italian Gelateria. Guests can relax and unwind at the Mandara Spa; three swimming pools (including a beach pool with Roman aqueduct-styled water slides), Villa pool and Hillside pool and bocce ball courts.


Book Your Stay at the Portofino Bay Now !


PORTOFINO BAY HOTEL FEATURES
GUEST AMENITIES/SERVICES
All rooms at the Portofino Bay Hotel include the following:
On-command in-room movies, video check-out and remote control TV with cable channels
Smart Room Technology for automated heating and air conditioning
Integrated entertainment center including remote control color TV with cable channels, in-house video channels, on-demand movies and CD player
In-room safe
Two dual-line telephones with voicemail system
Refreshment pantry
Coffee maker & coffee
Iron & ironing board
Hair dryer & make-up mirror
Separate bath and vanity area with two separate sinks (one inside, one outside)
Turn-Down Service
Loews Loves Pets
Home Sweet Loews – Loews offers extra items that you may have forgotten to bring with you
ROOMS
Garden View Rooms - Each of our standard rooms is equipped with one king, or two queen beds, and is capable of sleeping up to five.
Bay View Rooms - Bay View rooms are equipped with the same amenities as the Garden View rooms, but with a scenic view of Portofino's piazza and harbor.
Deluxe Rooms - These elegantly appointed accommodations feature an even larger living space, plus a separate tub and shower in a stylish and roomy bathroom. Additional amenities include: fax machine, CD player/radio, videocassette player, separate shower and enclosure, tub featuring shutters from the bath to the bedroom, cotton bed linens and terry towels.
The Villa complex has its own pool area and exclusive access for added privacy. Villa rooms are appointed with all the features of the deluxe rooms, connecting to a deluxe room and with a larger living area than the Portofino Parlor, this suite also includes a casual seating area, dining area and kitchenette.
SUITES
Portofino Suites – Cozy and comfortable with plenty of space to relax after a day at the parks, a one-bedroom Portofino Suite connects to a garden or bay view room.
Villa Suites – Connecting to a deluxe room and with a larger living area than the Portofino Parlor, this suite also includes a casual seating area, dining area and kitchenette.
Hospitality Suites – The Hospitality Parlor features a large dining table, kitchenette and expansive living space and connects to a garden room.
Governatore Suites (2) - The suites feature a spacious bedroom, walk-in closet, separate study area, dining and conference area, and entertainment space. These suites also boast a whirlpool tub, wet bar with refrigerator, and mini kitchen equipped with a service pantry.
Presidente Suite – Guests enjoy an immense bedroom, walk-in closet, separate study area with TV, dining and conference area, and entertainment space, your "la dolce experience" will be complete. The Presidente features an expansive outdoor terrace with seating for six, fireplace, wet bar with refrigerator, whirlpool tub and mini kitchen equipped with a service pantry. Suite is one bedroom, with 2nd and 3rd bedrooms available.
EXCLUSIVE GUEST BENEFITS
At Universal Orlando everything is within walking distance, including Universal Studios, Islands of Adventure and CityWalk. Guests at Universal Orlando on-site resorts enjoy exclusive privileges throughout their stay, including:
Universal Express preferred access to theme park rides and attractions all day, every day
Courtesy water taxis and bus transportation between the resort, theme parks and entertainment complex
Priority seating at select Universal Orlando restaurants & shows
Complimentary package delivery of in-park purchases to guest rooms
Resort ID cards to charge merchandise, dining and entertainment throughout Universal Orlando
Length-of-stay tickets are available for purchase to enjoy unlimited admission to the two theme parks
LOBBY AND RECEPTION AREA
Safe deposit boxes
Concierge/guest services
ATM machines
PARKING AND TRANSPORTATION
Valet and self parking
Car rental agency on premises
RETAIL AREA
Resort apparel, authentic Italian gifts, jewelry & other fine shopping assembled around the harbor piazza. Also featured an on-site Universal Orlando shop with favorite memorabilia from the theme parks
Travel desk to arrange ground transportation and tours
RESTAURANTS AND LOUNGES
Bice Ristorante – The Bice Ristorante has opened its first location in Florida at the Portofino Bay Hotel. It features the finest in Italian style cooking, an extensive wine menu, and a breathtaking view of the Portofino Harbor.
Trattoria del Porto - Serving three meals daily, Trattoria features diverse regional cuisine, and an expansive antipasto/dessert bar.
Mama Della's Restaurant - Located just off the harbor, Mama Della's serves homestyle Italian cuisine in an at-home environment.
Sal's Market Deli - A harborside café atmosphere with a wide variety of dine-in or take-out selections.
SplendidoPizzaria - This pool bar and grill offers everything from burgers to salads.
Gelateria Caffe & Espresso - This Italian bakery serves up handmade gelato and assorted desserts, as well as a collection of coffees.
Thirsty Fish - This casual dock-side bar serves up light finger foods, cigars, cordials, and cocktails.
Bar American - Bar American is a central gathering place at Portofino Bay Hotel. Located in the main lobby, guests can enjoy cocktails, wine, beer, and assorted appetizers.
24-hour room service
RECREATIONAL ACTIVITIES
The Mandara Spa – The full-service Mandara Spa at the Portofino Bay Hotel offers guests the ultimate in luxury treatments, including Swedish massage, deep tissue sports massage, wraps, aromatherapy tubs, and a full service salon with facial/treatment rooms including his/hers massage suite.
Campo Portofino - Campo Portofino is the hotel's supervised children's activity program
3 beautifully themed pools including a Beach Pool with water slides, a Villa Pool with private cabanas and a Hillside Pool for even more privacy.
3 whirlpools.
Children's wading pool.
Jogging, walking and bicycle path.
Bocce Ball court.
---
Click here to go to Hard Rock Hotel
Click here to go to Royal Pacific Resort
Click here to go to On-Site Hotels