Cheap Orlando Airfare Can
Make Flying Affordable
Cheap Orlando airfare makes flying the quickest way to get to Universal Studios Orlando … unless of course, you live around the corner.
Discount airfares are easy to find so flying doesn't have to be as expensive as you might think. And, if it's a luxurious, first class flight you seek, there's plenty of them too! When searching for cheap Orlando airfare I always start with Tripadvisor . Why? Because it's fast and easy.
I've also found Tripadvisor to have the largest number of flight selections available from most of the major airlines. I've also found the pricing through Tripadvisor to usually be a little better than some of it's competitors.


Away we go!
If you're looking for more cheap Orlando airfare and a
"no frills"
approach to flying you may want to try Southwest Airlines . We've always had good luck with them and have found their flights to be clean and reliable. They also various discount "internet" airfares and they have many non-stop flights to Orlando as well.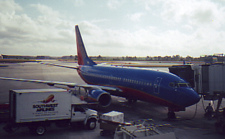 Ready for takeoff
---
A little side story if you don't mind.

Living in Canada, in winter the trip to the airport can be almost as adventurous as the flight itself. On one of our trips to Orlando, just before we left for the airport at 4:00 a.m., a snow squall blew in. The normal 35 minute drive across the border to Buffalo airport took a treacherous, white knuckling, hour and 15 minutes! Needless to say I always heed my late father's advice when traveling. "Always give yourself plenty of time. Better to leave early and get there in one piece, then not to get there at all." We arrived safely, only to find that our flight had been delayed by an hour and a half. So, we were there really early with plenty of time to go through security and get quite comfortable in the airport. Moral of the story? Always plan ahead and don't rush.

---
Speaking of airports. If you choose to fly, landing at Orlando International Airport (airport code MCO) is your best choice since Universal Studios Orlando is only about a 15 to 20 minute drive from the airport. And, Orlando International is a beautiful airport to boost.
You can visit Orlando International for more information about this gorgeous airport. The gate we arrived at was detached from the main terminal. So much to our delight we had to take a short monorail ride, which the kids loved, to the main terminal. And by the time we made it down to the baggage claim our bags were already riding around the baggage carousel. No waiting! How great is that!
Also, if you've forgotten any last minute gifts from Universal Studios, there is a Universal Store located at the airport to pick up those last few souvenirs when you depart.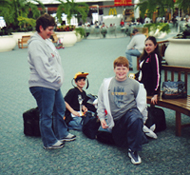 Family and friends at Orlando International
Be sure to plan ahead and I'm certain you'll have a safe and enjoyable trip.
Do your homework
. Be sure to check out cheap Orlando airfare on Expedia to book your tickets. Then get your
travel gear
in order,
double-check your check list
,and you're on your way to the vacation of your lifetime.
Happy Flying!
---
Click here to go to Driving to Florida
Click here to go to Cheap Orlando Car Rental
Click here to go to Orlando Airport Transportation
Click here to go to Travel Planning and Travel Gear