Orlando Travel Planning Gear
Traveling can be a pain. So don't forget to bring some "stuff" to help make your flight or road trip to Universal Studios Orlando a pleasureable experience.

What kind of "stuff", or "gear" as my kids would say, you may ask? Of course any trip is not complete without some snacks to eat. Yummy! And don't forget to bring your CD player, portable DVD player, camera, books, magazines, puzzles and some travel games to pass the time away. If you need the latest CD or travel game to help make the trip a pleasure, visit Amazon.com to get the latest gear.


Before you leave, you must get a copy of Seth Kubersky's and Kelly Monaghan's book, "Universal Orlando – The Ultimate Guide To The Ultimate Theme Park Adventure" available at Amazon. I highly recommend this book. Seth and Kelly do a fantastic job covering all there is to know about Universal Studios Orlando. They have a ton of insider tips to ensure that you get the most from your Universal vacation. It's really a great book and will help you get those juices flowing in anticipation of your vacation to Universal Studios Orlando.
Click the link to the left to buy it from Amazon now!
Don't forget my wife's favorite ...
new luggage
. In her eyes, there's nothing finer than going on the vacation of a lifetime with some new luggage. Have never quite figured that out though.
And don't forget other travel accessories like a waste pack/fanny pack and a backpack. When traveling in amusement parks I don't like carrying my wallet in my back pocket. So to befuddle the pickpockets, I always wear a waist pouch/fanny pack. It keeps my valuables where they belong. The pouch is also great to hold extra stuff like keys, tickets, camera film and batteries. A backpack in the parks is also a must to carry some bottled water, camera, sun screen, snacks, towels and some dry clothes for after getting drenched on Dudley Do Rights's Ripsaw Falls or Popeye and Bluto's Bilge Rat Barges or Jurassic Park!
And, if you never seem to have enough room in your vehicle for all that new luggage check get yourself a rooftop cargo box, carrier or bag for your car, van or truck. These really help to free up space in your vehicle without having to spend a lot of money.
And, finally, make a check list to be sure you haven't forgotten anything. It only takes a few minutes but it will save you a mountain of headaches. Make it detailed, even personal, if you must. I make a list for everyone in the family as well as another list for general stuff. All my lists drive my family nuts, but we have never forgotten anything … ever. Well, at least not yet.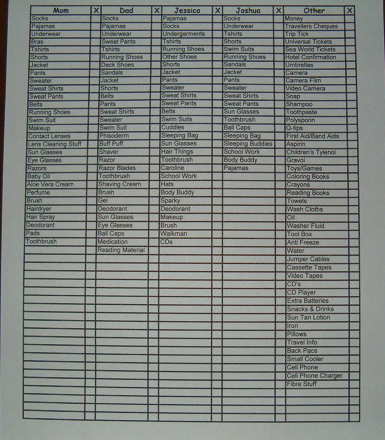 "The List"
My last words of advice … well at least for now. Keep in mind, when you travel to Orlando, make it a fun experience for everyone. This is particularly true if you are traveling with children. Involve your family in the planning. Look at the planes of the airline you're going to be flying with on the internet. Some airline sites even have the whole plane layout and schematics of the plane! If you're driving, be sure to sit down with your maps and plan your driving route with the family. And, don't forget to involve them with making your check list and with the packing. Kids really love this!


---
Click here to go to Cheap Orlando Airfare
Click here to go to Driving to Florida
Click here to go to Cheap Orlando Car Rental
Click here to go to Orlando Airport Transportation